This moisturizer is a game-changer for my acne-prone skin. I'm thrilled I discovered it!
Chemical Free Moisturizer
Finally, a moisturizer that keeps my skin matte without any harsh chemicals. It's a winner!
I've tried countless products, but this one is my favorite by far. It's perfect for oily skin and delivers outstanding results.
I love It Moisturizer
This moisturizer is a lifesaver for my oily skin. I can't believe the difference it's made.
My skin has never felt this good. This moisturizer is a pure miracle in a bottle!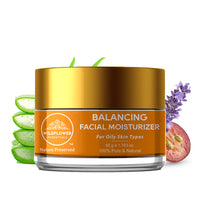 Balancing Facial Moisturising Gel - Fights Acne and Breakouts | 50g
Rs. 800.00