I can't believe how well this cream handles changing weather issues.
I've recommended this cream to all my family. It's herbal and works like magic during changing weather.
It's natural,my skin stays happy even when the weather changes.
I'm loving this cream! It's pure, natural, and has been a game-changer during changing weather.
Changing weather used to stress out my skin, but not anymore.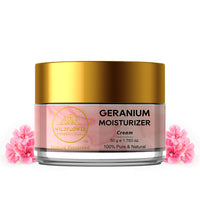 Geranium Moisturiser- Dry Skin Haven- Day Cream | 50g
Rs. 700.00