I'm loving the results from this cream. My skin is firmer, and the collagen-boosting effects are evident.
I can't get enough of this day cream. The collagen benefits are real
This day cream is a game-changer. My skin feels more elastic
I'm thrilled with this cream! My fine lines are visibly reduced, and the collagen improvement is remarkable. My skin is glowing.
I've tried numerous creams, but this one delivers genuine collagen-boosting results. My skin feels tighter.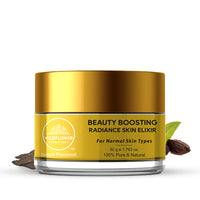 Beauty Boosting Radiance Skin Elixir (COLLAGEN BOOSTER) | 50g
Rs. 1,000.00