This rose toner is my skincare hero. The instant refreshment and hydration it provides are unmatched, and the spray bottle makes it my constant companion.
I never go out without this rose hydrosol. It's a skin rejuvenator, and the spray bottle ensures I can enjoy nature and fresh skin simultaneously.
I've seen a noticeable improvement in my skin's hydration since using this rose toner. It's my go-to for quick refreshment, and the spray is so user-friendly.
This rose hydrosol is a gem during outdoor picnics. It keeps my skin cool and hydrated, and the spray bottle makes it easy to share with friends.
I love using this rose toner in my daily meditation practice. It's a peaceful and refreshing experience, and the spray bottle adds a touch of tranquility.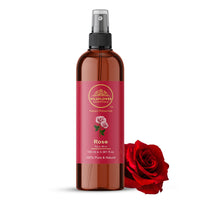 Rose Toner | 100ml
Rs. 350.00